I departed Scituate for a good day of sailing down to Plymouth. (July 25, 2010)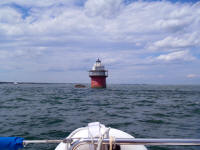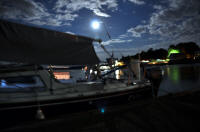 A full moon over Plymouth Harbor, rising and setting the next morning.
A comfortable harbor, with its yacht club in the background in the photo on the right. Below is the Mayflower replica and the Plymouth Rock national historic site. Talk about seafaring history! (July 26, 2010)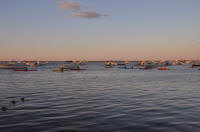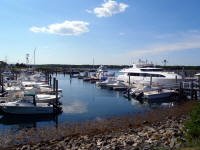 I made it to the Cape Cod Canal's "Harbor of Refuge" at the east end (top of the canal) in Sandwich by early afternoon; had to push the outboard to make it across the canal's 5 knot current and find the harbor's entrance before passing it. (July 27, 2010)
The next morning I had time to kill: The ebb current down the canal wouldn't begin until a few minutes after noon. (July 28, 2010)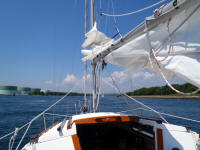 I pulled out of the harbor and into the canal at 11:30 am, ready for the ride. Little did I know then what I ride I was in for before the day was over! (July 28, 2010)
The current was still light, in the middle of changing, and Chip Ahoy was just on its way when I turned and found a large barge bearing down on us, pushed by a tug, followed by another. The barge was pushing what looked like a big bow wave, which had a surprisingly small effect. The tug pushed a bigger one.
My biggest concern was making it under the railroad bridge at the canal's west end without it closing -- its clearance when down and a train crossing is a mere 7 feet. Holding Chip Ahoy against the 5-6 knot current with its 8HP Honda until it opened without getting swept into it would be a challenge. We flew right beneath it.
I enjoyed a short-lived relief -- very short. (Jul. 28, 2010)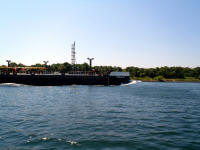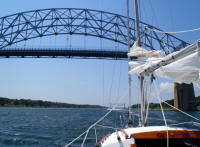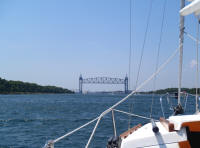 For Chip Ahoy's complete log of the 2010 cruise, click here