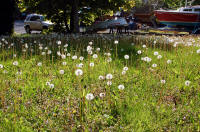 An invasion of dandelions has taken over the yard. It's time for the lawn-cutting guys to arrive and have at it, come to the rescue. It's not as though we have grass anyway -- the yard is pretty much just mowed wild meadow. (May 15, 2009)
The male of the pair of wild mallards I feed takes a look into Chip Ahoy's cockpit. (May 16, 2009)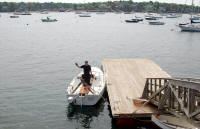 Vaughn McGrath called earlier this week to enlist me for the annual raising of his C22's mast, and today was the day. He keeps "French Curves" on a mooring in Marblehead Harbor during the season, in a nearby boatyard over the winter. Marblehead Neck is across the harbor in the background. (May 16, 2009)
-- Close Up --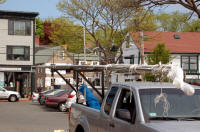 "French Curves" has a fixed fin keel, so with no need for a trailer, he keeps his mast at home over the winter. Each spring he trucks it down to the town landing on the ladder rack; home in the fall. The corner of Front and State Streets and part of Olde Towne Marblehead are in the background. The infamous "Maddie's Sail Loft" restaurant and pub is a short walk up State Street.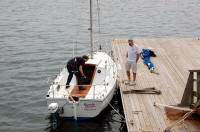 Vaughn recruited Ray as our third hand this spring.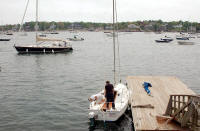 Vaughn and "French Curves" are just about ready for Sailing Season 2009. (May 16, 2009)
We had our one day's weekly ration of sunshine yesterday since the last stretch of raw, cold, gray and showers: Today's (Thursday) forecast calls for more rain through the weekend. Yesterday I got the boat almost completely loaded. Now everything's got to be stowed away where it belongs -- something I can do on the usual rainy day. This photo is of sunrise this morning as the sun again retreats, as the latest of "multiple rounds of rain" move in from the west. Less than an hour after I took it, the sky is completely overcast, again. (Jun. 18, 2009 -- Chip Ahoy website)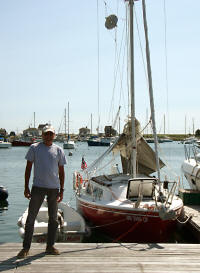 I headed out on my annual cruise, which proved to be short-lived. Apparently I hadn't fully recovered from my March spleenectomy. I made it to Scituate, spent a few days there recovering, then decided to head back home to Marblehead. (Aug. 3-9, 2009)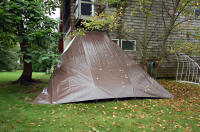 With Labor Day beihnd us, it was time to begin closing down summer, preparing for the seasons ahead. It was also time to replace the lean-to tarp, the old one thread bare and worn through in too many spots after years of service to endure another winter. I had a plan to improve its function, keep it from being dragged down by the weight of heavy snowfall, one of the damaging factors.
With some trellis strips and a few cinder blocks, I rigged a sort of hoop skeleton frame, much like the one I use under the tarps that cover Chip Ahoy.
In the photo on the right, intrigued by the construction Gilly-the-Cat inspects the results. (Oct. 4, 2009)
-- See "Before" --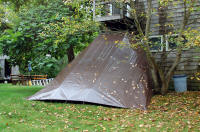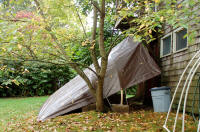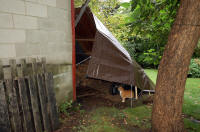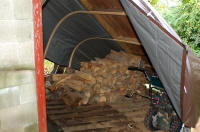 The hoops ought to take some of the weight of heavy snow off the sides, keeping down wear and tear on the tarp, literally. The emergency firewood and snow-thrower are just a step outside the back door, and there's a lot more space now. Next I'll haul in more firewood from the racks out front across the lot. Gilly approves.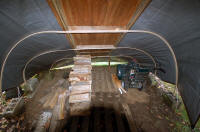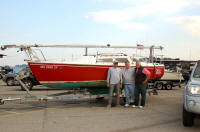 After a seasonably cold week, and our first brief snow squall last Sunday, it was time to haul Chip Ahoy out and trailer it home for the winter. (Oct. 21, 2009)
For more, see: The 2009 Haul-Out
Back to Page 3 | NEXT