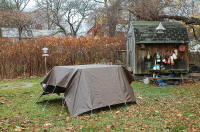 I got the picnic table furniture covered over the weekend, at last, replacing the old tarp with a new one for this too. (Nov. 23, 2009)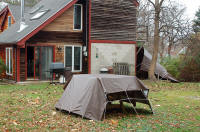 The covered picnic table furniture, the lean-to in the background. Yesterday I covered the office window air-conditioner, sealed the window with clear shrink insulation. I'm ready for winter by Thanksgiving Day this Thursday.
Thanksgiving Day and our 19-plus pound Plainville Farms turkey. Our only guest this year was "Flat Stanley," part of Barbara's granddaughter, Maya's third grade school project for the year. As usual, I was up early this morning for my annual ritual, preparing the special stuffing from my mother's recipe. After just over five hours in the oven, we hoped the bird was done -- even though the pop-up indicator had yet to pop and never did. (Nov. 26, 2009)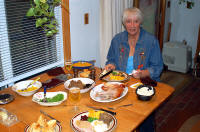 Barbara preparing to enjoy the feast. The turkey was done, barely; it could have stood another half hour in the oven though.
Yours truly, pausing for a photo before digging in. (Nov. 26, 2009)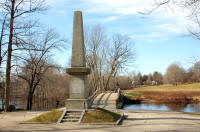 Today Barbara and I drove to the Minute Man National Historical Park in Concord. In 1996, we visited so I could take photos to create a logo for our organization, Citizens for Limited Taxation. That was before the advent of digital photography; I took my photo then with a Nikon N6006 SLR film camera, then scanned it with pretty poor results. But from it I was nonetheless able to create the logo we've been using since.
It was time for a better photo with my Nikon D50 DSLR. When we arrived, using a print-out of the old photo I lined up my shots from the exact same position and angle. We arrived early -- as we did on our visit in 1996 -- to get the morning sun on the statue's face. I was very satisfied this time with the results. (Nov. 29, 2009)
-- Comparison, old and new --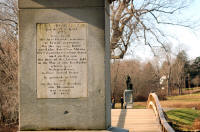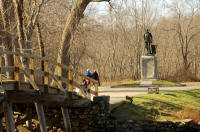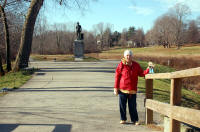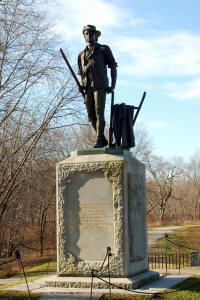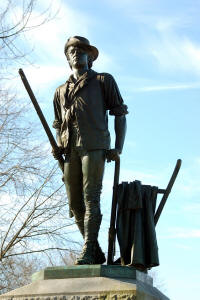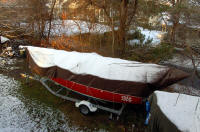 This season's first snowfall arrived last night. Hearing it was coming, I got Chip Ahoy covered yesterday morning, before the rain showers began. This morning brought the first taste, if only a tease, of what's ahead. (Dec. 6, 2009)
Almost as if uncannily "on schedule," our first major snowstorm arrived one year later to the day of last year's first blizzard. (Dec. 20, 2009)
-- See more --
Back to Page 4 | NEXT