New England Spring Arrives
aka, Monsoon Season
Background Song:
Here Comes the Rain Again
By Eurythmics
Click thumbnails below for a larger picture
March 31, 2010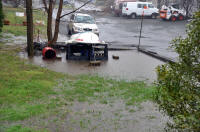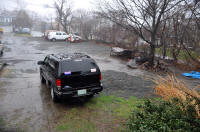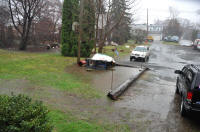 Yesterday the torrential rain of 2010 Monsoon Storm #3 continued. Two weeks ago, it rained so hard it flooded my small cellar, put out the gas furnace and hot water heater. (Mar. 31, 2010)
This time the bilge pump in the cellar crawl space kept up with the three-day deluge, since I replaced its cracked exhaust hose. This time, it was Barbara's basement that was flooded, her furnace and hot water heated that was drowned.
Yesterday we broke the all-time record for rainfall in March, when more than ten inches over the month was surpassed. My yard and lot turned into a pond and running river.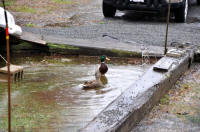 The heavy runoff coming in from the street created rapids where it passed by the wood racks and emptied into the neighbors' yard just before and beyond Chip Ahoy.
It sure was a good day for ducks, and this pair of Mallards, visiting regulars, enjoyed the newly-formed pond alongside the dinghy.
Monsoon photos from today's Salem News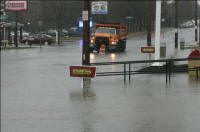 Walnut Street, Peabody -- just off Peabody Square, which was under feet of water again.
Canal Street, Salem -- looking more like a canal than a street.
Railroad Avenue, just off flooded Peabody Square, alongside the courthouse.
The Boston Globe
Wednesday, March 31, 2010

Wading through the crisis
Hundreds routed but few injuries;
Rising river levels still on flood watch
By David Abel, Globe Staff

As relentless rain pelted the region yet again yesterday, hundreds of people were evacuated from inundated homes, authorities closed numerous water-clogged roads, and officials managing an overwhelmed drainage system narrowly avoided releasing sewage into Boston Harbor.

The record-breaking storm, which pushed streams and rivers past their banks, prompted Governor Deval Patrick to deploy 1,000 National Guardsmen statewide to deliver thousands of sandbags in an effort to stem the surge.

"We've had two 50-year storms in the course of two to three weeks,'' Patrick told reporters at the state highway barn in Lexington, where Massachusetts National Guard members filled sandbags. "This is unheard of. This is . . . a little bit more dangerous due to the saturation from the previous storm. This could cause floodwaters to rise very, very fast.''

By the time the storm ends this morning, 3 to 6 inches of rain will have fallen in the Boston area, with 6 to 8 inches in portions of Southeastern Massachusetts, said Kim Buttrick, a meteorologist at the National Weather Service in Taunton.

Boston has received more than 14 inches of rain this month, the city's rainiest March on record. The previous high was 11 inches, a mark set in 1953. This week's rain, the third major storm in two weeks, also made it the second-wettest month in the history of Boston, below the record-setting 17.09 inches of rainfall in August 1955.

As of last night, state officials said they had reports of only minor injuries resulting from the storm. The injured included State Trooper Patrick Ahl and the unidentified woman he rescued when her car became stranded in a deep puddle on the shoulder of Interstate 95 near the Danvers/Peabody line.

Guardsmen and state Environmental Police in Fall River assisted in the evacuation of about 300 people. In Clinton, they stood by in case the town needed to build sandbag walls near the Wachusett Reservoir and the Nashua River.

Throughout the day, state officials closely watched swollen rivers, especially in the Merrimack Valley, and monitored water levels behind 39 dams across the state. The priority for dam watchers was the troubled Forge Pond Dam in Freetown, which sparked concern earlier this month, said Rick Sullivan, head of the state Department of Conservation and Recreation.

"We are obviously being very vigilant,'' Sullivan said.

On Monday, Patrick declared a statewide state of emergency, and President Obama declared Massachusetts a federal disaster area, allowing businesses and homeowners to apply for grants and low-interest loans to help them recover from the floods.

Major General Joseph Carter, commander of the Massachusetts National Guard, said soldiers had delivered some of the 8,500 sandbags they had prepared to various communities.

"Our Guardsmen have dropped what they were doing . . . and they've come in to duty to assist,'' Carter said.

Peter Judge, a spokesman for the Massachusetts Emergency Management Agency, said all the state's rivers yesterday afternoon were "above flood state, with the expectation that many will end up at major flood stage before this is over.''

He said the Sudbury and Assabet rivers were expected to reach record heights. Most rivers are not expected to crest until tomorrow.

"We're watching every river carefully,'' he said. "Local officials are taking precautions to evacuate folks downstream of several dams.''

Officials at the Massachusetts Water Resources Authority said yesterday that they had been closely monitoring the state's sewer systems, which approached but stayed below maximum capacity. Officials breathed a sign of relief last night as they did not have to dump up to 10 million gallons of raw sewage into Boston Harbor as a way to prevent the backup of waste water into customers' homes and stave off damage to the system.

During a previous storm this month, the MWRA released a similar amount of sewage into the harbor.

"As of now [11:30 p.m.] we have not had to,'' said Ria Convery, a spokeswoman for MWRA. "We got lucky this time. Knock on wood.''

In Rhode Island, hundreds of residents were evacuated from homes as the Pawtuxet River surged above record levels. State officials had made several overnight shelters available to those forced out of their homes.

In West Warwick, Linda Keller, 58, and her neighbors had to be evacuated by boat after their multifamily home flooded. Keller described the evacuation as harrowing.

"I was hysterical,'' said Keller, who clutched a bag filled with medications.

In Fall River, Mayor William A. Flanagan declared a state of emergency, and members of the National Guard and deputies from the Bristol County Sheriff's Department used Humvees and prisoner transport vans to evacuate residents.

"Mother Nature has not been kind to the city of Fall River,'' Flanagan said. "There is massive flooding.''

Flanagan said areas most affected were along North and South Watuppa Ponds. He also said rain had scoured out Mount Hope Avenue, one of the city's main arteries.

On Judge Street, Renay Stiles watched as the South Watuppa flooded her basement and the living rooms of neighbors' homes.

"It's horrible out here,'' said Stiles, 50, who struggled to shut her back door yesterday when water began gushing inside.

A number of communities in Eastern Massachusetts reported flooding, including Wayland near the Sudbury River and Heards Pond, and Lakeville near the Assawompsett and Long ponds. In Middleborough, Pat Rogers, chairman of the Board of Selectmen, said the town's wastewater treatment plant had flooded and raw sewage was being discharged into the river.

"What makes this [storm] have a greater impact is because it's coming on the heels of a significant event,'' said Buttrick, the meteorologist. "The water table is high, and in many communities, the water has no place to go. . . . The communities of Massachusetts are waterlogged.''

Flood warnings were extended for the Merrimack River at Lowell, Nashua River at East Pepperell, North Nashua River at Fitchburg, Spicket River near Methuen, Squannacook River at West Groton, the Shawsheen near Wilmington, and the Blackstone at Northbridge. Warnings continued for the Assabet River at Maynard, Sudbury River at Framingham, Concord River at Lowell, the Charles at Dover, and the Neponset at Norwood.

Major highways in Greater Boston were not seriously affected by the storm, though some ramps and smaller state highways had closed, said Colin Durrant, spokesman for the Massachusetts Department of Transportation. He said pumps were operating in Littleton, where a culvert collapsed on Monday, causing concerns about water levels in Spectacle Pond.

Elsewhere, the rain caused scattered delays, diversions, and service outages for buses and trains throughout the region.

On the MBTA's Framingham/Worcester commuter rail line, where the tracks are owned and maintained by the rail company CSX, the company imposed speed restrictions for all trains.

Flooding of the tracks in Rhode Island blocked the commuter rail but did not disrupt service for Amtrak's Northeast Regional and Acela lines, because they operate higher on the rails. Both lines were reduced to a single track through much of Rhode Island and into Connecticut, causing a delay of 30 to 45 minutes, said Vernae Graham, an Amtrak spokeswoman.

In Boston, Massachusetts Bay Transportation Authority officials carefully monitored the water level in the Muddy River, with a crew waiting to deploy sandbags to protect Green Line trolley service should the water rise above 15 feet. That strategy had not been needed for five years before being required twice earlier this month, said Joe Pesaturo, MBTA spokesman.

The T fared better than it did two weeks ago, when substantial rainfall washed out a section of track bed along the Green Line in Newton and eroded the rail bed in Braintree on the Middleborough commuter rail line.

"We haven't had anything of that magnitude, with the exception of the flooding in Rhode Island,'' Pesaturo said.

Martin Finucane, John R. Ellement, Travis Andersen, Brian Ballou, Eric Moskowitz, Jonathan Saltzman and John M. Guilfoil of the Globe staff and Globe correspondent Shana Wickett contributed to this report.

---

The Boston Herald
Wednesday, March 31, 2010

2010 brings a rain of terror
By O'Ryan Johnson and Richard Weir

The great flood of 2010 continued to spread more misery yesterday, stranding drivers in submerged cars, causing raging rivers to wash out streets, and forcing weary homeowners to bail out their basements and hundreds of others to flee.

The flooding could worsen today as rivers such as the Charles are set to crest after the water-logged state received record rainfalls.

For Iraq war veteran John Colasanti, yesterday was a complete washout as he and a dozen other drivers made the mistake of trying to drive through a flooded Spring Street in Everett, only to have their cars die in knee-deep water.

"The whole street was just one big, giant lake,"said Colasanti, 43, of Everett, who, along with his brother, Joe, a passenger, pushed his stalled GMC Envoy to dry land before getting it towed to a garage.

State Trooper Patrick Ahl yesterday waded through chest-deep water to reach a 28-year-old Weymouth woman whose Nissan was quickly filling with water after it skidded off Interstate 95 in Danvers and into a water-filled gully.

"She was floating in her car," Ahl said of the driver, who he and two other troopers rescued after breaking a passenger window.

State transportation officials warned drivers and straphangers to expect long delays with today's morning commute, as the downpours continue to cause pooling on major highways and along railways.

The historic floods also pushed already swollen New England rivers to peak levels as the rainstorm turned the month of March into the second wettest on record.

The storm dumped nearly 4.5 inches of rain on the Hub, which by yesterday evening recorded 14.19 inches of rainfall for the month, making it the wettest March on record and the second rainest in history, just 3 inches shy of the chart-topping 17.09 inches that fell in August 1955, said National Weather Service meteorologist Alan Dunham.

Massachusetts Emergency Management Agency spokesman Peter Judge said the Fall River area has been hardest hit by the storm, forcing parts of Route 24 to be shut down and hundreds of residents to be evacuated.

The Red Cross said families sought relief at emergency shelters in Lawrence and Freetown, while shelters in Somerset, Brockton, Weymouth and Framingham remained on standby.

In Lakeville, resident Edward Rand said nearby Long Pond overflowed its banks and filled his home's crawlspace with water.

"We've been pumping nonstop and we're losing," he said.
| | |
| --- | --- |
| | |