A most frustrating day. I got the hatch hinges tightened, then moved on to installing the hatch adjusters. I had both mounted to the deck frame flange then set out to attach them to the hatch itself. As I attempted to align the port side adjuster to the hatch, it simply fell off at its attachment point, apparently broken. Great, off to West Marine for a replacement, which they didn't have. The gave me a refund and sent me off to its franchise in Peabody where they reserved one for me. As it was too late to make it there before the store closed, I headed home to get back to work on the other. (Apr. 30, 2006)
The flawed West Marine Hatch Adjuster, model 592040. Avoid at all cost! Above is a shot of how it's supposed to look: to the left is how it looks broken. When I returned from West Marine, I set out to attach the starboard side hatch adjuster to the hatch. I aligned it to the hatch, drilled its holes, let the adjuster pivot below on its deck flange pivot, and heard it hit the cabin floor -- it too had broken!
The base/foot where the hatch adjuster fastens to the hatch deck flange has a pin through its center on which the adjuster pivots, almost like a key that seems to handle the pivoting. That's where both broke, with no undo pressure whatsoever -- in fact, no pressure or resistance whatsoever when the second one broke but for it pivoting freely under its own weight.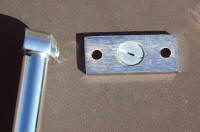 This is the backside of the attachment foot which faces the hatch deck flange. Note the round slotted coin-like circle in its center: this is its pivot point. I called West Marine here in Marblehead and spoke to its owner, John. He thinks perhaps there's a flaw in the design, or the lot. Wouldn't be the first time I was the victim of a bad lot.
I remember too clearly still the Sea Dog deck connector fiasco, the week-and-a-half of frustration and wasted time (and fuses) and how many replacements before Sea Dog bench-tested, recognized. and acknowledged that everything they had in stock was shorting out too! I ended up going to an AquaSignal deck connector to make the mast lighting work.
On Monday, I got a refund on the second hatch adjuster from West Marine, and they let me keep the two bad adjusters. I took them to Mike at Fraser Welding over at the boatyard. I had a plan: I left the two adjusters and instructions with him. (May 5, 2006)
I had Mike drill out the ends of the adjusters where they'd broken large enough to insert a 10/24 machine screw and make me two new attachment bases, the center holes in each drilled and countersunk from the back.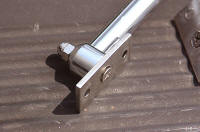 West Marine even gave me the additional hardware free-of-charge to complete the job, the two SS machine screws and acorn nuts. Completed, the new adjusters cost a total of $30/pair for Mike to do his machine work -- not counting last Sunday's utter aggravation. Beefed up this way, these should work. I'll install them tomorrow, a week from when I started.
Yesterday was another frustrating one, getting the hatch and adjusters to align so the hatch would close smoothly. I spent far more time accomplishing that simple feat than anticipated, filling one pair of holes on the hatch's starboard side before drilling a second pair slightly more aft and fastening the second adjuster. The hatch now opens and closes perfectly. This morning I tightened all the screws and nuts into the bedding compound. Sure that everything was working as intended, I patched the existing foam gasket in places where I had to cut it away to get at hardware, then added a new layer of wide closed-cell weatherstrip on top of it. (May 7, 2006)
The hatch with its adjusters finally installed; the project is near-completed. All that remains to be done is attach hatch dogs: I decided to remove the one in the center and go with two, one on each side.
To see large file size (3.3 mb) detailed photo click here.
The next day, the New England Monsoon Season struck . . .
With new hatch dogs still back-ordered from Catalina Direct after three weeks, and with the launch already behind schedule, I decided to make do with what I have. I drew up a hasty "blueprint" and brought it down to Fraser Welding at the boatyard. Mike built me a piece that I thought would work just fine as a catch -- at least for now -- with the existing single hatch dog. Boy, am I ever glad I waited to remove it! (Jun. 2, 2006)
The old hatch dog with the new catch. It tightens down the hatch all around nicely; better than I'd anticipated. I got it in just before another weekend of rain struck, and everything is dry inside today. This looks like the final solution; I cancelled my Catalina Direct order. (Jun. 5, 2006)
I've been appreciating and enjoying that forward hatch ever since. On the left is a photo of Chip Ahoy docked in Rockport Harbor (MA) on Sep. 7, 2007 with it open and sucking in air. What a difference from before. How did I last so long in "the cavern" without flow-thru ventilation?
-- SEE CLOSE UP --
In the spring of 2008 I fabricated and added a removable screen in the cabin beneath the opening. (May 24, 2008)
See Update (2010): Adding additional weatherstripping


Continue on to Update (2012):

Renewing the hatch seal
Page 1 | Back to Page 2 | NEXT | Page 5
Some projects really are never-ending ...