Sailmaker and long-time friend Josh Bevins begins assembling my Furlex headsail roller-furler. (May 6, 2004)
The Furlex 100S system assembled.
The line drum.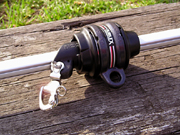 The halyard swivel.
The halyard lead.
The Furlex furler drum attached to the bow stem fitting with the mast raised.
The mast raised with furler installed, ready to launch.
Moving on with Season 2004 improvements
It's never-ending ... but spring has arrived at last, the projects have begun!