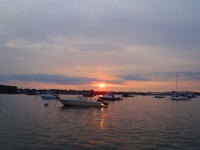 Friday, July 6, 2012; 8:45 pm
On Chip Ahoy's mooring
Marblehead, MA

Off to a good start – I'm aboard, the sunset was good, I just hooked up the laptop, and the 5MileWifi system is working – thanks to The Digital Docs here in town! I lashed the 5MileWifi antenna to a stanchion in the cockpit with a couple small bungie cords instead of running it up the mast. I didn't know if it'd be worth the bother, but it's pulling in a good signal from the Palmer Cove Yacht Club. Tomorrow when I reach my destination, now that it appears to be working, I'll run it up the mast.

Another great weekend weather forecast inspired me to take off for another few days – this time up to Gloucester, maybe Rockport; I'll know better tomorrow morning what's available for dockage when I call and speak with Greg.

Today was beautiful – sunny and in the high-80s – with more of the same for days to come, but hotter (90s) and more humid, hazy. Tomorrow late-afternoon there's a good chance for thunderstorms – "scattered" but possibly severe in some areas – when the really hot and humid air moves in. By then I plan to be tied up safely, likely at Brown's Marina in Gloucester.

A visit yesterday to the chiropractor seems to have done wonders for my back. It's been a concern since my return from Scituate two weekends ago come Sunday. I stayed ashore last weekend giving it time to heal, but that wasn't happening – at least not quickly enough.

I received an e-mail message from 5MileWifi yesterday requesting that I call them, two weeks after my first contact with them requesting assistance. I complied, only to reach Ali/Anide's voice mail again telling me to leave a message and he'll "get back to me as soon as possible" again. I left a message, told him (if there really is a "him") that my system is working no thanks to him, and to not bother me any more. 5MileWifi is incredibly useless, and now is becoming a nuisance since they can't/won't help but keep promoting this false image of care. May they burn in the fires of Hell.

A quiet night on the mooring, up with the early dawn, a few cups of coffee aboard, and I'll get underway early up to Cape Ann, by 9:00 am is the plan.

Saturday, July 7, 2012; 6:30 am
On Chip Ahoy's mooring
Marblehead, MA

With a cup of "tea-bag" coffee alongside and the laptop connected to a good Wifi signal I've checked the weather. I'd expected to be awakened by a bright dawn, but instead it's overcast; some sun breaking through but far more cloudy than I'd anticipated.

Marine Point Forecast: 42.6°N 70.68°W
Last Update: 6:08 am EDT Jul 7, 2012
Forecast Valid: 7am EDT Jul 7, 2012-6pm EDT Jul 13, 2012

3NM SSW Gloucester MA
Atlantic Ocean

Synopsis...A COLD FRONT WILL MOVE ACROSS NEW ENGLAND TODAY AND THEN OFFSHORE TONIGHT.
HIGH PRES THEN SETTLES OVER THE NORTHEAST FOR MUCH OF NEXT WEEK.

A cold front moves in – but the temperature will increase to the mid- to high-90s along with high humidity; some 10-15 degrees above normal. Go figure, but AccuWeather is predicting showers and thunderstorms accompanied by gusting winds mid-day:

Showers/Thunderstorms

Gloucester at 11 am / Marblehead at noon.

Gloucester at 4 pm / Marblehead at 5 pm.

This wasn't in my plan. I expected weather late today into tonight, but thought I'd be safely tied up to the dock in Gloucester when it arrived. This morning it looks like I may run into an early arrival around noon.

NOAA is sticking with the same forecast as yesterday:

Today: Scattered thunderstorms, mainly after 5pm. Mostly cloudy, with a high near 90. Northwest wind 7 to 10 mph. Chance of precipitation is 30%. New rainfall amounts of less than a tenth of an inch, except higher amounts possible in thunderstorms.

Tonight: Scattered thunderstorms, mainly before 8pm. Partly cloudy, with a low around 64. Northwest wind 6 to 8 mph. Chance of precipitation is 30%. New rainfall amounts of less than a tenth of an inch, except higher amounts possible in thunderstorms.

Sunday: Sunny, with a high near 81. Northwest wind 7 to 13 mph.

Sunday Night: Mostly clear, with a low around 59. West wind 6 to 8 mph.

Monday: Sunny, with a high near 81. Northwest wind 7 to 11 mph. Monday Night Mostly clear, with a low around 59.

7:30 am

I'm on my second cup of coffee and will soon be stowing the Origo stove and readying the boat for departure. It's brightening a bit, but there's still a lot of overcast to the west and north – my route. There are breaks in the clouds overhead, patches of blue sky. It sure is getting more humid. Last night's low temperature only dropped to the mid-70s. As the local AM radio station's weatherman observed earlier – you know it'll be uncomfortable later if it's this warm this early in the morning. The air is dead, not even a hint of breeze. I haven't bothered to open the forward hatch this morning – it wouldn't make any difference. Dead low tide arrives in an hour.

Once I get things stowed away and reorganized down here in the cabin and everything ready to go topside, the test will come when I try starting the outboard. I don't expect any problems, but after what happened on the return trip from Scituate anything's possible.

I've still got to call Greg up at Brown's Marina and confirm a slip for this afternoon. If not there, I'll try reaching Rockport's harbormaster for a reservation.

Saturday, July 7, 2012; 2:45 pm
A slip at Brown's Marina
Gloucester, MA

A few showers enroute but nothing worse. They actually felt refreshing, though I had the foul-weather jacket within reach in the cabin. Still no thunderstorms, just the occasional showers.

I sailed out as far as between Misery and Bakers Islands, but where the wind usually picks up it completely died. I bobbed along until I saw other sailboats catching up to me and realized they were motoring, if they had sails raised the sails were flogging. I decided to motor-sail too, and before long furled the jib; then well outside of Gloucester Harbor dropped the main sail too. It was just 'get there before the storm.'

I ran through a couple of showers – as I said, actually refreshing – one just as I entered the harbor. I called ahead, had a reservation and Greg would be watching for my arrival.

I was in and tied up by 1:30 pm, then set Chip Ahoy up for a stay: 5MileWifi antenna run up the mast, shore power cord connected, batteries recharging, laptop out and connected, 'pup tent' deployed, refilled the water jug. Life is good.

When I went back to the laptop I discovered that the wireless mouse didn't work! It did this morning on the mooring. What's this all about? God I hate this stuff, always something it seems. So after spending an hour with Logitech ("Chris") we had it working again. Boy, how much good can you say for, first, tech support that's there when you call – even on a weekend, and, second; someone like Chris who knows how to walk you through it and solve the problem? Chris has the advantage of me just coming off my 5MileWifi "customer support" nightmare – and I explained that indigestion to him. Wow, this was customer support as it's supposed to be!

Sunday, July 8, 2012; 8:30 am
A slip at Brown's Marina
Gloucester, MA

I'm on my second large cup of Green Mountain Coffee, "dark espresso," purchased at the convenience store across the road from the marina (opens at 5 am). "Convenience" is right; no need to pull out the stove and heat water for "tea-bag" coffee (and how hard is that).

Later yesterday evening I walked across the road to Expresso's Italian Restaurant for my traditional NY sirloin steak dinner, as usual, exceptional. Between Mill Wharf Restaurant in Scituate (two weekends back) and here, I really can't say which is better – both are great, if differently prepared, and priced about the same (just over $20 for the meal and drink). Unlike my last meal in Scituate, at least I was able to finish this one without a thunderstorm cutting it short.

I wonder what happened to the thunderstorms forecasted for late yesterday and last night; other than mostly overcast the worst I saw was a few scattered and light showers early.

It's a beautiful morning: Sunny, low humidity, in the 70s and expected to reach the mid-80s this afternoon. According to Accuweather, the wind is WNW at about 10 mph gusting to 15 and should be more or less steady all afternoon. It's more of the same tomorrow, when I plan to head back home to Marblehead, though the wind should shift to SW after noon.

The laptop's mouse initially didn't work again this morning. With what I learned yesterday from Chris at Logitech it didn't take long to reconnect the Nano wireless, again. Now I wonder why that was necessary.

I noticed while sailing yesterday that the aft-lower shrouds seemed a bit loose. I rigged them using a Loos gauge, but don't have it aboard. Wish I could check them – but I'm sure I adjusted all to specs before launching Chip Ahoy. Rather than play with them here, I'll wait until I can bring the gauge aboard and check the tension first.

10:05 am

It's dead low tide here and a good opportunity to check out the top of Chip Ahoy's mast at almost eye level from the wharf. Now I can see why I can't pull the roller-furled foresail all the way up to the top of the mast. As I suspected, the Furlex fairlead I fastened to the top of the mast directs the fixed halyard about 6-8 inches below the mast truck. The sail can't go any higher unless I relocate (or remove) that fairlead.

This puzzled Wally and me when we raised the mast this spring and tried to adjust for it. The new extended cable I'd made over the winter based on my calculations was too long, so before launching I made up another at West Marine, a couple inches shorter. I'm trying to get the foresail as high as possible while leaving space beneath the foot so I can see (primarily lobster trap buoys) ahead from the cockpit. There's still a small amount of furled sail at the foot, a couple of turns, but the furler swivel is tight against that fairlead at the top.

I can get more sail while still maintaining visibility beneath if I can move that swivel higher, somehow. Too much more and it'll rub against the mast, not turn freely. It's something to look at next spring when the mast is down and outside my house.

11:45 am

It looks like the NOAA/NWS forecast was more accurate than Accuweather's: The very warm air is dead here, not even the slightest hint of a breeze.

Monday, July 9, 2012l 6:45 am
A slip at Brown's Marina
Gloucester, MA

The weather for my return to Marblehead looks great, if not much wind. According to NOAA/NWS:

Gloucester: NW wind 5 to 7 kt becoming SSW in the afternoon. Sunny. Seas 1 ft or less.

Salem Sound/Marblehead: NW wind 6 to 8 kt becoming S in the afternoon. Sunny. Seas around 1 ft.

The plan is to break camp as soon as I finish my second cup of coffee; take down and stow the 5MileWifi antenna and pup tent, coil up the shore power cord, stow the battery charger and cord. I figure a departure of about 9:00 this morning.

I spent a leisurely day aboard yesterday, reading and napping, some time on the laptop connected to my home/office workstation (though LogMeIn) catching up on some work and checking my e-mail there. It was pretty stuffy below in the cabin with little if any breeze. Around 6:30 pm I walked across the road to Expresso's for an $8 toasted BLT sandwich (with fries) for dinner; at that price I might have been better off ordering another steak!

Monday, July 9, 2012
Home; Marblehead, MA

I was grateful that the Honda 8 started right up with one push of the starter button, but if it was going to jam up again this was as good a place as any. Ever since the situation out in the middle of Massachusetts Bay on the way home from Scituate I hold my breath each time I push that button.

I departed Brown's Marina this morning at 9:15 am and was pleasantly surprised by the unexpected breeze once I reached the middle of Gloucester Harbor. I ran into a problem while hoisting the main sail; the reefing line apparently got tangled when I lowered it, or while I was setting up the pup tent. It took a bit to get it straightened out enough to get the sail up while dodging lobster trap buoys and trying to keep heading into the wind, but still it wasn't quite right the rest of the trip home.

All the way home the wind remained strong, I'd estimate 10-12 knots occasionally gusting higher, moving from the NW to S, SE by the time I got into Salem Sound, fading away as I entered Salem Harbor and picked up Chip Ahoy's mooring at about 2:00 pm.

It was a great sail home with unexpectedly favorable wind. The marine forecast was correct though about the clear, sunny sky, the comfortable temperature, and the relatively flat ocean. I'm getting back a bit of my old confidence with the outboard; so far no further problems with the flywheel and starter bendix gear jamming, knock on wood.