Last summer during my Maine cruise I had problems with the left burner on my Kenyon Marine model 126 pressurized alcohol stove, the one I use most frequently for percolating coffee after moving it out onto the starboard-side cockpit seat for lighting (whew, that initial flare-up needs to happen outside). Apparently the gallon of denatured alcohol I'd bought the year before had gone bad: when I last filled the tank just before the problem began, I noted that it'd turned "tea-colored," probably rust I now surmise. (Mar. 28, 2006)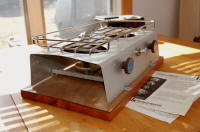 I replaced the gallon of alcohol at a hardware store up in Boothbay Harbor and dumped the old supply. The problem persisted, so I fell back on using the right burner and planned to look into it over the winter. Yesterday the time had arrived.
Kenyon Marine has been fantastic with customer support. When I first called them in 2003 for instructions (after scaring myself half to death on first trying to light the stove, with its flare-up -- fortunately I'd first removed it from the boat and had a garden hose at-the-ready!), not only did they send directions and a schematic (see link at left) but provided free-of-charge a new air-pump washer, "the first thing to go," I was told. I've stored it somewhere for safe-keeping -- I've come across it a number of times -- but haven't been able to find it in the boxes of "winter storage" while searching for it. But that isn't my problem now anyway.
I disassembled the entire unit down to its smallest parts, both burners right down to the tank, cleaned every tiny piece with acetone -- removed a layer of what appeared to be rust from many of them -- then reassembled it. Still the burners didn't work correctly, but I had rearranged the holes in the burner flange, lining them up. This morning I put them back to roughly where I'd found them: slightly off-center. The stove now works!
The stove reassembled and working almost like new! (I finally found the new air-pump rubber washer/gasket and replaced it too.)
Moving on with Season 2006 improvements
It's never-ending ... but spring has arrived and Sailing Season '06 is in sight