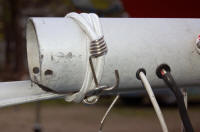 Though some of these photos were taken in Spring 2006, one of the first projects I undertook on "Chip Ahoy" was to replace the entire mast wiring harness, add a mast top anchor light, steaming/deck light combo, and run a coaxial cable up through the mast to a new VHF antenna at its top. First, I fastened a length of 1" PVC pipe up the inside of the mast, each end about 8" shorter than the top or bottom of the mast. I fastened the pipe with pop rivets through the mast's forward edge, then ran both cables up through it. Both the wiring harness and coax cable exits at the bottom of the mast. (Spring 2003)
The cable and wiring harness connect on the deck to a new AquaSignal deck connector for the mast wiring, and a new Blue Sea cable clam for the VHF radio antenna coax cable.
Deck connector (JPG file) blowup -- Deck connector (PDF file) blowup
The new steaming/deck light combo mount about halfway up the mast, just above the spreaders. I first removed the old steaming light and its broken teak mount.
A closer view of the new steaming/deck light combo.
At the mast head, the VHF radio coax cable exits through a grometted hole then connects to the new VHF antenna's base.
I mounted a new anchor light on a pedestal -- or as Catalina Direct terms it, an "anchor light mast mount tube." The wiring for the light is connected through the tube to the wiring harness that I just installed that runs up inside the mast, within a 1" PVC pipe pop-riveted through the mast. It's controlled by its own switch on the cabin panel board. The running lights/compass light also has its own switch, as does the steaming light, and the deck light.
The anchor light mast mount tube is designed and contoured to fit and be secured to the masthead truck, but I had to drill holes in the tube, then drill and tap the truck to fasten it.

Masthead Anchor Light -- CLICK HERE for more detail.
The Shakespeare #5215 "Squatty" VHF antenna mounted alongside the offset new Windex. (For details on how I mounted the Windex CLICK HERE.)
The VHF antenna coax cable attaches beneath and alongside new masthead anchor light mounted atop the mast. In this later photo (Jun. 2006), the roller-furler is attached to the mast truck in place of the old forestay.
Another view of Chip Ahoy's busy mast head.
Moving on with Season 2003 improvements
It's never-ending ... but spring has arrived and Sailing Season '03 is in sight