Winter 2007-08: the season's first nor'easter
December 16, 2007
---
Dec. 16, 2007 -- It's not too bad, if you like nor'easter right after a serious snowstorm only a few days before. I was out early snowthrowing -- still a little too late for it not to begin getting "heavy and wet" as it turned to wet snow and drizzle. To think, it's not even officially winter yet and won't be for almost another week.
All the shoveling I did yesterday to dig out the woodracks apparently was for naught. It's all buried again.
Dec. 16, 2007
All those nice paths I cut and heaved out of the way . . . for the next storm.
Ah well, I've still got that "emergency" stash out back under the lean-to.
We'll dig out the vehicles tomorrow morning, I guess, after Bob Donovan's plows comes through.
I got the woodracks shoveled out again, front and back sides, just after the snow turned into freezing rain, but what I didn't get to has now frozen solid like cement. (Dec. 18, 2007)
Donovan's plow guys came back yesterday to clean up the lot with a front end bucket loader. Short of heavy equipment, there's no moving this icepack until we see temperatures above this deep freeze.
Even the ice on the roofs of our vehicles between roof racks is impenetrable without damaging the vehicles. It's as if the ice has become bonded to the roofs.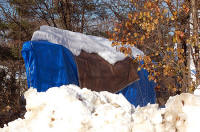 Though it's sunny today, the high temperature is only in the low-20s in the early afternoon. It'll be a while before I can chop away at the ice covering and blocking the wood racks.
I'm grateful to Donovan's plow guys for sanding the icepack covering the parking lot and relocating some of the mountain of snow in front of Chip Ahoy -- at least I can see it now to get a photo.
Before the first storm I added the second (brown) tarp over the full tarp. The blue one appeared to be a bit thin in spots, almost threadbare. Toby's lobster boat, "Firewood," fared well with its solid wooden frame and old sails for covering.