Yesterday, aware of the approaching nor'easter, I hauled in a few more carts of firewood, filling the kitchen rack. (Jan. 14, 2008 - 7:30 am)
Sure enough, the snow had started to fall early in the morning, before dawn.
A view out my second floor office back door. The hard-falling snow was heavy and wet, sticking to trees, limbs and branches.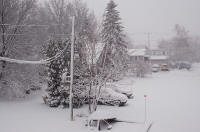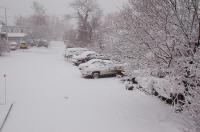 The commuter traffic was the primary concern of officials, but since Barbara and I don't need to commute, the secondary concern -- power outages -- was with us for most of the day.
By 9:00 am the storm was in full swing. The lot was filling, the wood racks out there were becoming buried again.
The backyard was filling in again.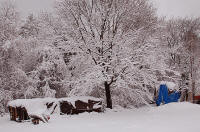 The birds were fluttering around their feeder out there, but I wasn't ready to go out and fill it yet.
Barbara's Honda half cleaned off -- my Blazer is yet to be touched. I love that remote starter, which lets the Blazer's defroster do most of the work.
The wood racks and Chip Ahoy are getting more and more remote by early afternoon.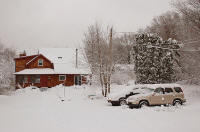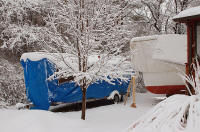 The lot hasn't been touched yet by the plows -- and the Sears snowthrower has broken down, again. The trusty shovel needed to come out for yet another chore of snow removal.
By mid-afternoon a foot of the white stuff had fallen, heavy and deep.
Chip Ahoy and Firewood weathered the storm well, as usual.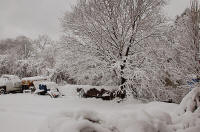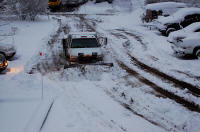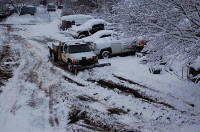 By late afternoon we still hadn't lost power -- thanks to light wind -- but everything snow touched was bearing its weight.
At 4:30 pm the snow had all but ended, just as the snowplow guys arrive to dig us out at last.
I'd shoveled out my paths throughout the yard, stopping short of where the plow would clear (and bury). Still no power outages here anyway, knock on wood.
The Boston Herald
Tuesday, January 15, 2008

Hub weathers first '08 storm
It's snow going, but major gridlock avoided
By Casey Ross
The first storm of 2008 dumped 8 to 14 inches of snow across Massachusetts yesterday and packed powerful winds that toppled trees, knocked out power to 45,000 homes and created frustrating travel delays for countless commuters.

At times, the early-morning nor'easter smacked Boston and its suburbs with blinding gusts of snow, leaving the largest accumulations north and west of the city. It forced 600 schools to cancel classes, and Boston officials said they towed more than 450 cars to clear the streets for plows.

Still, the storm did not paralyze the region like last month's icy downburst, when tens of thousands of motorists were trapped on unplowed state highways for six hours and longer after Gov. Deval Patrick's call for state and private employees to leave work early put everyone on the road at the same time.

Yesterday, city and state officials urged workers to stay put or use public transportation. The storm was gone by 1 p.m., leaving the region with a blanket of snow that created irritation, but not chaos.

"It could have been worse, but a lot of people used the T and stayed off the roads," said Peter Judge, spokesman for the Massachusetts Emergency Management Agency. By sundown, he said, power outages were down to about 27,000, with large concentrations in Walpole and Springfield.

There were no reports of fatalities or serious injuries. State police fielded continual reports of spinouts, including a Logan Express bus that lost control on Interstate 93 north in Medford, but there were no large-scale emergencies.

In Boston, Mayor Thomas M. Menino mandated all nonessential employees to stay home and canceled school. He declared a snow emergency that forced residents to move their cars from major thoroughfares. Those who did not were ticketed or towed. At last count, officials said more than 3,060 tickets had been issued, each one carrying a $35 fine.

Some who ventured into town found plenty of trouble on commuter rail trains and MBTA buses. Toppled trees accounted for most of the headaches, blocking commuter trains in Gloucester and Dedham, disabling trolley service in Mattapan, obstructing the Green Line for two hours in Boston and knocking out trackless trolley service in Cambridge, officials said.

On the Haverhill branch of the commuter rail, passengers were delayed by as much as two hours by disabled trains, but MBTA officials said most train delays were less than 30 minutes and affected less than 20 of the 250 morning trips.

The snow proved problematic for airline travelers, with hundreds of flights canceled at Logan International Airport, where officials were at times down to a single runway, according to the Massachusetts Port Authority.
Click on thumbnails below for larger photos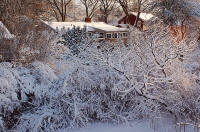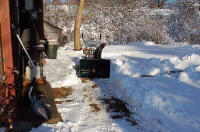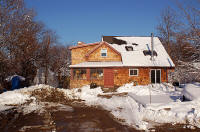 At 8:00, soon after sunrise, this photo shows how much the snow has stuck to everything like plaster. (Jan. 15, 2008)
The true and well-used snowthrower (leaning against the house on the left) and the fraud Sears alleged snowthrower, that breaks down almost every time I use it. It sits out waiting for the Sears repairman to again arrive and fix it.
It was warm and sunny enough by mid-afternoon for the ploughed lot to begin melting -- but that mountain of snow is piled in front of Chip Ahoy and Firewood all over again.
A view of Chip Mate the dinghy and more of the yard.
The hand-shoveled paths around the house -- hand-shoveled again thanks to my worthless Sears alleged snowthrower.