Chip Ford's 1974 Catalina 22 Restoration Project
Sail #3282 l Marblehead, Massachusetts
Winter 2008: Really, just a snowstorm
February 23, 2008
---
Feb. 23, 2008 -- This was simply a typical New England snowstorm of no great significance -- just one of those one-footers we have to get out and move around a bit, get it out of the way before maybe the next one.
Click thumbnails below for a larger picture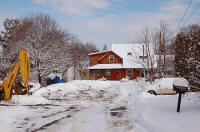 A new trick I learned (after how much of my life living in New England!) from the truck drivers who share our lot is to lift the windshield wiper blades on our vehicles in anticipation of snow. (Feb. 23, 2008)
With the wiper blades up and out of the way, it makes for easier windshield clearing.
We were well plowed out come morning. (Note Chip Ahoy parked and covered alongside the house and "Firewood.")
A view from Village Street.
Not a whole lot of snowfall, until it has to be moved from one place to another. Then even a foot of snow is an effort for its long term value.
My paths cut with the Sears snowthrower, which worked this time -- incredibly from start to finish, a near-record!
Done, at last.
The Boston Globe
Saturday, February 23, 2008

Winter punch stings region
Amid cold, vision of a warmer world
By Peter J. Howe and Megan Woolhouse

A slow-rolling snowstorm that peaked during the afternoon commute delayed thousands of homeward drivers last evening and led to more than 120 flight cancellations at Logan International Airport at the end of the busy school-vacation travel week.

With 8 to 9 inches of snow forecast for Greater Boston and 7.5 inches on the ground by 11 p.m. yesterday, airlines began canceling flights in droves early yesterday, hours before any flakes fell, worried that planes would get stuck here. By 5 p.m., 77 departing flights and 50 arriving flights had been canceled at Logan, about 10 percent of the airport's total daily schedule.

Because many Boston-bound flights from Southern cities are booked to fly 95 percent to 100 percent full today and tomorrow, many travelers were facing a nightmare trying to get home.

"There are no flights I can get on for two whole days," said Dr. Jane Liebschutz, a Boston Medical Center physician attending a medical conference in Austin, Texas, whose American Airlines flight home through Dallas yesterday was canceled. The earliest she could get a flight home was tomorrow morning, which meant missing a friend's 50th birthday, an appointment with her tax accountant, and two days with her daughters, who are 4 and 3.

"I told them I would fly to New York, to Hartford, to Providence, to Manchester, and there's nothing, absolutely zero," Liebschutz said in a telephone interview.

Carolyn Fennell, a spokeswoman for the Greater Orlando Aviation Authority, said that more than 60 northbound flights were canceled there yesterday, but that it appeared that airlines had notified travelers by phone and electronic mail well before they came to the airport, where it was 84 degrees and sunny. "We haven't seen any unusual number of people camping out here," Fennell said. "It's just a busy Friday."

New Englanders hoping to escape to warmer climes weren't faring any better. Pat and Paul Pouliotte of Augusta, Maine, braved a three-hour bus ride to Logan, only to have their flight to Miami canceled once they got there. They faced a 24-hour-plus wait in Boston. "I am so sick of the snow," Pat Pouliotte said.

Logan spokesman Phil Orlandella said Boston was a victim of delays that began in the early morning at the three New York-area airports and in Philadelphia and quickly snarled Logan-bound flights. Plowing crews were able to keep Logan runways open throughout the storm, Orlandella said.

That was no help to travelers like Chris Wile of West Newbury, who said his flight from Cancun to Boston was diverted to Philadelphia because of the storm. Speaking on his cellphone from on board the plane last night at 11 p.m., he said that passengers had been sitting on the plane for more than four hours and that frustration was mounting.

"The plane is half full of kids because of school vacation," he said, adding that one had become ill.

"We have no idea . . . if we have a flight back or what," he said. "We don't know what's going on."

Orlandella said that "there should be no problems in the morning" by way of additional canceled flights, but he urged travelers to check with their airlines. People trying to rebook flights that were canceled yesterday could face delays getting new tickets on flights today and tomorrow, officials said.

On area roads, travel was smoother, if slow. By early evening, State Police and SmartRoute Systems, which operates the 511 traveler cellphone information line, reported that homebound commutes on most roads were taking two to three times longer than normal.

A spate of spinout accidents was reported on Route 2 in Acton and Boxborough and also in Needham and Franklin. Interstate 495 in Hopkinton, just south of the Massachusetts Turnpike, was at a standstill, authorities said.

But officials said several factors appeared to help traffic flow and prevent a repeat of the traffic paralysis that ensued during a midday storm Dec. 13: Many workers had taken the school vacation week off; Governor Deval Patrick sent most state workers home at lunchtime; and the Registry of Motor Vehicles shut down all its branches and canceled all hearings and driver's license road tests.

Mayor Thomas M. Menino declared a snow emergency in Boston at 2 p.m., triggering a parking ban on most major city streets, as more than 300 city plows went to work. Traffic is "definitely lighter, today being a school vacation week," said State Police Lieutenant Eric Anderson. "I think people also realized the storm was coming."

Peter Judge, spokesman for the Massachusetts Emergency Management Agency, agreed. "On Dec. 13, we had a confluence of a lot of bad circumstances, and today it was the reverse, a confluence of a lot of good circumstances including the vacation week," he said.

The state Highway Department deployed hundreds of trucks to spray highways with liquid calcium chloride, which melts snow before it sticks. As the snow piled up, more than 2,600 MassHighway plows and salt- and sand-spreading trucks went to work across the state, spokesman Adam Hurtubise said.

The MBTA reported that about a half-dozen trains were delayed by 20 to 30 minutes during the afternoon rush hour, including the 2:45 p.m. train to Worcester from South Station. Usually running express as far as Natick, the train was making stops at every station in Newton and Wellesley to accommodate a crush of passengers leaving the city.

About 5:10 p.m., the lead wheels of a two-trolley train heading to Riverside on the Green Line's D branch derailed at a switch near Reservoir station, shutting down the line, T spokesman Joe Pesaturo said. A bus shuttle was set up from Fenway to Reservoir, with trolleys continuing to operate from Reservoir to Riverside. Pesaturo said none of the 70 train passengers was injured.

Tania deLuzuriaga and Andrew Ryan of the Globe staff contributed to this report.
---