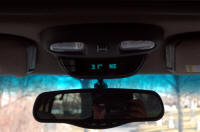 Today is John Graichen's birthday, and this year he was determined to sail on it before trailering "Malacass" out and home to Nashua, NH for the winter. I offered to give him a hand long ago, but not once it got cold. I don't like cold -- which is why I had Chip Ahoy hauled out back in mid-October. But I thought I could get some good photos from the shore for him, with my warm Chevy Blazer nearby with its heater blasting. At 9:30 this morning I drove to the town cemetery overlooking John's mooring, but he hadn't arrived yet. The photo on the left is a self-portrait showing the temperature -- and my compass heading. (Dec. 6, 2008)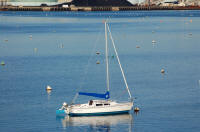 Malacass was sitting out there looking lonely and cold among all the empty moorings.
Next I drove up the road about half a mile toward the mouth of Salem Harbor to Stramski Beach to see if I could spot John canoeing across from Winter Island, where he planned to trailer out using its ramp. That's Winter Island dead center in the photo, the old Coast Guard station and its seaplane hanger. The ramp originally served the seaplane before the USCG switched over to helicopters and turned the island over to the City of Salem for public recreational use. Note from the nearby Marblehead shoreline that the tide's going out, low at 11:02 am today.
Using my Tamron AF28-300 mm telephoto lens on my Nikon D50 DSLR I was able to zoom across the harbor and right onto Winter Island. No John, canoe, or truck and trailer in sight, and there appeared to be no docks either but those alongside the ramp.
Switching to the new Sigma AF10-20 mm wide-angle lens I captured Salem Harbor from the Marblehead side; (L) the inner harbor and Malacass on its mooring, (Center) the Salem Power Plant, and (R) at the far right in the photo across the harbor, Winter Island.
In the meantime, John reached me by cell phone; he was at the ramp and began canoeing over. That's John "Chief Hiawatha Frostbite" Graichen paddling his canoe dead center in the photo, across the harbor just to the left of the smoke stack on the left.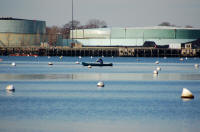 A full zoom shot of the canoeist approaching from across the harbor. Boy that harbor's surface was flat today, barely a ripple never mind waves or swells.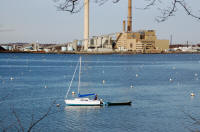 John soon arrived at Malacass and prepared to drop his mooring for the last time this season.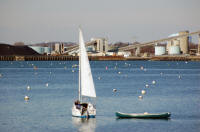 With the main sail raised, canoe in tow, he was on his way back to Winter Island. That sure looks like it beats paddling!
Approaching Winter Island and its ramp.
NEXT
It's never-ending ... but Sailing Season '08 has ended!