Last year I sanded down the faded teak-veneer finish on the cribboards and painted them white enamel. A season's wear needs refinishing, and since it's still cold out there (though spring officially arrived yesterday), it's one last indoor project I've found that can be done. I've sanded the old finish and next will paint them with two coats of off-white Petit Easypoxy Polyurethane. (Mar. 21, 2004)
I recently added a teak louver to the top cribboard for better ventilation flow below deck. Last year I had a serious problem with mildew and mold. At that time I added a Nicro Day & Night 2000 solar-powered ventilator, but still the cabin needs better air circulation. After the paint's thoroughly dry, I'll oil the new teak louver.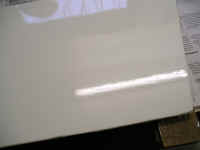 Still surface particles after three coats, damn.
"Good enough," the perfectionist in me agreed. My winning practical side argued that one day-sail later, they'll begin getting scuffed up anyway.
I'll next make a thin teak frame to insert into the backside and sandwich a piece of nylon screen between the louver and the frame.
The finished louver backside with new screen and frame installed.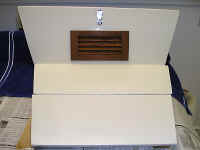 The completed cribboards.
A closer view of the front (exterior) side.
Cribboards installed in the still-covered Chip Ahoy. (Apr. 4, 2004)
Moving on with Season 2004 improvements

It's never-ending ... but the best times are again growing even closer yet!