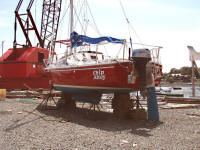 I brought Chip Ahoy over to the Beacon Street boatyard (Marblehead Trading Company). I had it hauled-out to have the keel checked out and the bottom painted before my annual cruise. (Jul. 18, 2006)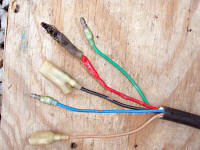 I'm waiting too long for Ryan Marine Services to remove my old Tohastu motor, install the new Honda 8hp 4-stroke I just purchased from them for $2,300. So today I went down and removed all the wiring from the old Tohatsu -- all they have to do is lift it off the mount and take it away, replace it with the new outboard. But this is what I found when I removed the wiring to the ignition switch -- fried wiring! The positive wire's cooked, the two alongside are bare. Sheesh -- what's that all about, and could this have been my troubles all along? A lightning strike has been suggested by both the boatyard and the outboard dealer -- my bow running lights, mast steaming light, and cabin light bulbs were blown too! (Jul 23, 2006)
The keel is back on, mounted --though the keel bolts haven't yet been installed. Nothing further has been painted -- just stuck back up in the trunk as-is. Now I have to wonder if any of the corrosion beneath the new bottom paint was dealt with as I ordered. I don't see a zinc plate, also as ordered if they're not going to reseal the epoxy surface. C'mon Marblehead Trading Company, I don't haul out but once a year -- can't we get it right then?
Being stuck in a non-weekend-working boatyard has given me time to check out and work on other items, e.g., I discovered that my bow running light and mast steaming light weren't working. (I also replaced the switch panel yesterday and deck connector a week or so back, so is there a problem above with the steaming light?) I chased down a pair of bulbs for AquaSignal lights -- bow running light and steaming light -- yesterday after paying more for gas running around than the bulbs cost. Son of a gun, they don't use the easily available "fennel" connections! I also replaced the cabin lights that, for some reason, ceased working, and fastened the new "smoke shield" that buddy Michael broke last week that arrived UPS this week.
I think I've also finally gotten the power connector to the GPS in the cockpit working -- but I'm not putting any money on it yet -- at least not mine.
Tomorrow, when I can reach people and get their attention, I want Ryan Marine Service to get the damn motor mounted and running on my boat, and I want to know when MTC can launch me. I'm getting nervous: I plan to depart on my annual trip in a week, and I've still got my dinghy to contend with before then.
The old keel hanger parts, left beneath Chip Ahoy. (Jul. 23, 2006)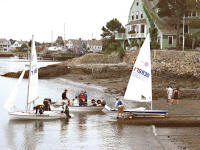 All is not lost. While I was working aboard, the youth of Marblehead went out sailing!
A dead soldier, my old Tohatsu 9.9hp -- a faithful warrior for a few years of service on some of my most memorable cruises. The new Honda 8hp four-stroke will replace it this year. (Jul. 25, 2006)
The new port side keel hanger and bolts.
The new starboard side keel hanger and bolts.
At last, I'm using the spacing pads I bought from Catalina Direct in 2003!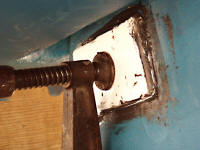 The starboard-side spacing pad, waiting for the epoxy to cure.
Whoa, at last I'm going to be able to tilt my outboard out of the ocean -- a first! Ryan Marine Service is still having a problem stretching the outboard cables to the battery buss, so I'll probably have to pull-start tomorrow to get from the yard's dock to my mooring -- but they assure me they'll come down to the Village St. dock and complete the job. They've been good since they showed up -- got new connectors attached to my gas tanks and everything seems to be go for tomorrow morning. Chip Ahoy should be in the water by the close of business today, waiting for me in the morn. (Jul. 25. 2006)
Moving on with Season 2006 improvements
It's never-ending ... but spring has arrived and Sailing Season '06 is in sight