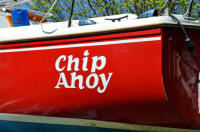 I initially lettered its name on Chip Ahoy' transom in 2003, the sides of the hull in 2004. Last spring I noted that the boat needed to be relettered, but when it came time to polish and wax the hull, I was in too much of a rush to launch to worry about the lettering. I decided it looked good enough for another season.
With the windows in, my big project for this season completed, and before I got on with any further commissioning of the boat for the coming season, I decided it was time -- as these photos will attest. (Port side lettering on the left, starboard side on the right, of course!) Since lettering enamel needs two weeks to fully cure before waxing, I decided to get this job out of the way first so it would be ready for waxing, my last step before launching. (Apr. 24, 2010)
My preparation was to wipe down the old lettering and an area around it with wax and tar remover, then polish the area to remove any loose paint. After another wipe-down with wax and tar then lightly with acetone, I was ready to get at it. I dug out the box of One-Shot lettering enamels and the box of lettering brushes -- in storage since I 'retired' as a professional sign painter in '96 and became a fulltime political activist -- and were in great shape.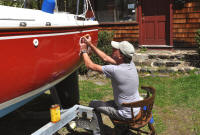 Like riding a bicycle, the moves and skill was still there. The last time I lettered anything was in 2004, when I initially lettered the sides of the hull. It felt good to have a lettering brush in my hand again, relaxing. I was pleasantly surprised how natural my wrist and finger coordination still was from the first brush stroke, how my concentration was one with the brush again, no hesitation. Unfortunately, I forgot my trick of adding a drop of Penetrol to the reducer to make the paint flow smoother, reduce brush stokes. And then there is my eyesight; I didn't need to wear glasses back then, ended up swapping my bifocals for full reading glasses to eliminate the neck strain!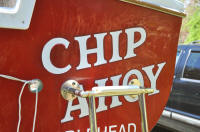 The transom lettering was more tricky, lettering around the swim ladder. I installed the ladder a few years after I'd lettered the transom and it is now definitely in the way of smooth brush strokes.
With the transom relettered, I moved around to the starboard side and completed the first part of the job. Next comes the final step, once the paint dries: outlining each letter. I hope to get that done tomorrow, weather-permitting, but rain showers are in the forecast beginning tomorrow and stretching into mid-week. (Apr. 24, 2010)
Today I finished relettering Chip Ahoy, adding a maroon outline to the white letters. The lettering should now be good for another 6-7 years. (May 1, 2010)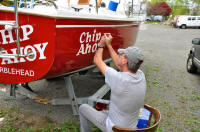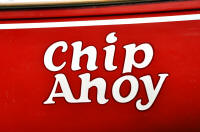 Starboard side.
Starboard and transom.
Transom.
Port side.
See: Before and After Comparison
Moving on with Season 2010 improvements
It's never-ending ... bring on Sailing Season 2010!