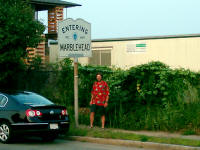 Don Woodhouse ("Togarty") -- a member-subscriber of my C22 discussion group -- arrived today (Sunday) after his cross-country bicycle ride from Portland, Oregon to Bar Harbor, Maine -- some 4300 miles! I picked him up at South Station in Boston and gave him a tour of the coast on our way home. On the left, he's about to enter Marblehead from Swampscott. (Aug. 16, 2009)
Don at the tip of Marblehead Neck, overlooking Massachusetts Bay and Salem Sound.
Don's shot of Marblehead Light on the tip of Marblehead Neck at sunset.
Today the plan was to meet up with John Graichen ("Malacass") at my house then head down to the launch and out to our boats. We got a pretty early start, about 10:30. Don and I took Chip Ahoy out and met John at his mooring. The weather forecast was excellent: Sunny, in the low 90s, and no rain, showers, or thunderstorms in sight. The wind was supposed to be SW swinging to SE later in the day, at 10-12 mph. (Aug. 17, 2009)
John and Malacass follows us out from Salem Harbor, Naugus Head, Marblehead in the background.
Coming out of Salem Harbor.
Into Salem Sound.
Chip Ahoy, outside the no-wake zone at the entrance to the harbor.
Chip Ahoy with Don and me aboard, photo by John from Malacass.
Chip Ahoy with the Beverly coastline in the background.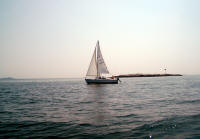 Malacass with Coney Rock in the background.
Always on the lookout for those nuisance lobster pot buoys.
John pulls Malacass alongside us, Childrens Island is on the horizon.