Angus and Rip the boat dogs were so excited that they were coming along with us they were bouncing off the bulkheads!
On the first night out, on a mooring in Misery Island cove, we dragged it and bottomed out on the rocks ashore in the middle of the night. There was hull damage, which we concluded couldn't be repaired from inside. We eventually beached the boat off Salem Willows and waited for the tide to recede to do repairs.
With anchors set, and the tide beaching the boat, with the new Honda generator on the beach, we refastened and recaulked a couple of planks. They never ceased weeping for the rest of the trip. In St. Augustine, Florida, we pulled this off again and sealed the problem.
Finally underway, we reached New London, Connecticut, passing by the Coast Guard's training academy and its training ship, the square-rigged barque Eagle. Note our Jolly Roger flying proudly from the yardarm. (Oct. 10, 1978)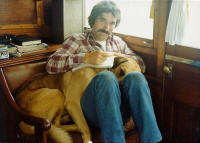 Rip, the ever-vigilant boat dog, in his off-time was always available as a literary inspiration, in this shot as a spiritual mentor for Brad's brother Jeff. (Oct. 11, 1978)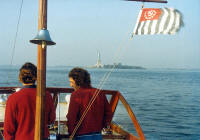 The Idle Hours II and crew cruising past the Statue of Liberty in New York Harbor. (Oct. 13, 1978)
Off the coast of New Jersey we came across -- of all things! -- another 1926 Dawn, "The Late J.C." I mean, how often does one come across a sister ship built uniquely that's over fifty years old? (Oct. 15, 1978)
It's owner, Jack Carter out of Mystic, Connecticut, either did a lot of work on his relic or had someone else do it, but it was in fine shape. But he was doing the cruise down to Florida singlehanded, so we put a couple of our guys on his boat for a few days. That's Jack's boat and our crew in the fog off Annapolis, Maryland. He eventually became too much for our crew (and us) to deal with, so they abandoned ship after the Chesapeake Bay. (Oct. 18, 1978)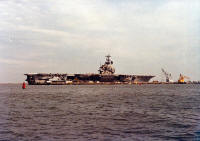 Entering the Intracoastal Waterway at Norfolk, Virginia. (Oct. 19, 1978)
Entering the ICW locks at Great Bridge, VA.
Awaiting the locks at Great Bridge, VA.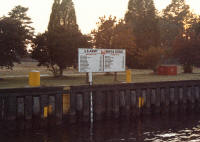 Mileage marker in the Great Bridge locks. Key West: 1,274 miles; Boston: 969 miles. We're almost halfway!
Back to Page 1 -- NEXT -- Page 4 -- Page 5