David Abel coming up to the salon from the galley with his first cup of coffee. (Dec. 25, 1978)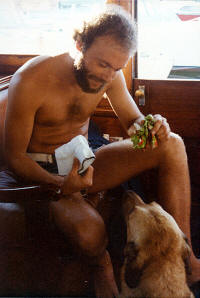 Me opening Rip's Christmas gift, a new sailor's hat.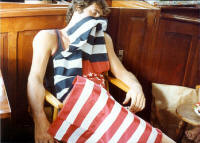 Brad appreciating his gifts from the crew, new flags and ensigns for the boat.
Egg Nog didn't seem appropriately tropical enough for a Christmas Eve in the Keys, so I dug out my Mr. Boston Bartender's Guide and concocted blenders-full of Havana Cocktails for the evening's festivities. ("The Joy of Cooking" and the "Mr. Boston Deluxe Official Bartender's Guide" are all an aspiring gourmet chef needs to excel!)
David, stoically dealing with the effects of last night's abundance of grog. It be but providence that Ye King's Navy deemed to not descend upon this motley crew of pirates come this morn!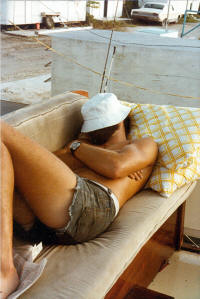 More fun in the sun: My cure for Havana Cocktail over-indulgence. The new hat from Rip came in handy! (Dec. 25, 1978)
At least Rip showed some sympathy for my self-imposed condition -- but maybe he got into those cocktails too last night? "Merry Christmas to all, and to all a goodnight"! (See my artistic portrait of "Rip the Boat Dog.")
Page 1 -- Page 2 -- Page 3 -- Back to Page 4 -- NEXT
(More coming soon!)