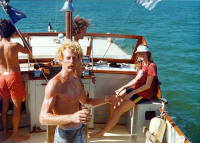 So we arrived in the Florida Keys with their notorious turquoise waters. The crew was fired up after we left Miami and reached Florida's bay side through the cut off Biscayne Bay to Soldier Key, and the water color changed. We had arrived in tropical paradise, had actually made it! (Nov. 14, 1978)
Well we'd lost two crew but gained Alison, so everyone was quite laid back, obviously. (Nov. 14. 1978)
After wasting time cruising down to Key West and expecting to find dockage at anything close to reasonable, we headed back up the Keys -- and found a good deal at Lion's Den Travel Park, so long as you were looking for little or no amenities. Options quickly diminishing, we grabbed the dock. (Nov. 18, 1978)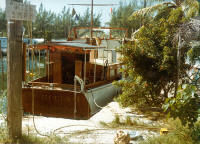 It was nothing fancy, an old and worn cement wall with cleats surrounded by some run-down trailers and a dilapidated row of motel rooms occupied as apartments. A faucet connected our pressurized fresh water system, a utility pole with a shore power outlet provided the connection we needed for the boat's power cord.
Nothing fancy but to us it was paradise, damn near heaven at $80/month.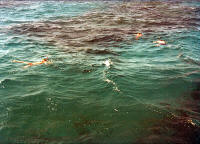 Soon after we headed out to Sombrero Reef, about four miles out off the ocean side of Marathon. There we did some snorkeling and fishing -- at least the snorkeling was successful in the clearest water I've ever seen, and so warm you didn't have to get out of it until you wanted to, not because you got cold.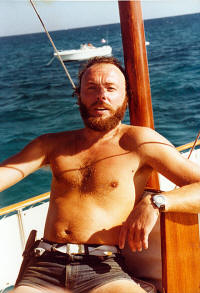 Me taking a breather and some sun between dives. Note the reversed belt buckle? That was done at the advice of our dock neighbor, Dan, who noticed the shiny brass buckle before we set out to the reef. He warned that the proliferation of large barracudas inhabiting the waters are attracted to shiny moving things -- that I could be struck by one, unintentionally but thinking it was a fish! Of course, my sheath knife was at my side as always, not that it'd do any good against a 'cuda faster than a bolt of lightening.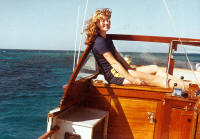 Alison relaxing on the bridge between dives.
The Idle Hours II heading back to our new home from our first reef trip.
Christmas morning aboard Idle Hours II. We even had our (very) little live Christmas tree, behind the gifts -- too small to put the gifts under! (Dec. 25, 1978)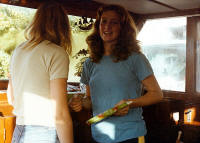 Karen and Alison exchanging gifts. Steve McKeon and his girlfriend Karen -- old friends -- had driven down in their van from Topsfield (Mass.) for the winter. They'd recently moved aboard for the duration. They had a winter home, and we had use of their van for winter transportation.
After the Christmas Eve party aboard, Christmas morning was a mixed success with light heads and heavy hangovers. Steve McKeon, on the left, was one of us early risers, marveling at our new latitude and attitude: "So this is Christmas in the tropics -- I love it!"
Page 1 -- Page 2 -- Back to Page 3 -- NEXT