My indoor winter project for this year will be to refinish all the exterior teak trim on Chip Ahoy: I last did it over the winter of 2003, right after buying the boat, then called "Take Five" by a previous owner. Over the five years since, the trim has aged from an almost golden hue to nearly black in color. (See a comparison between 2003 and 2007)
The first step of course is to remove it all again. (Nov. 8, 2007)
For this project, I cut a piece of ½" plywood to fit over the washer/dryer in the laundry room to use as a makeshift workbench. Since it wasn't perfectly flat, I soaked it with water then used the boat's batteries to flatten it to the appliances' tops. The batteries are stored on the floor nearby on a charger for the winter. (Nov. 25, 2007)
The teak trim laid out on the new "workbench."
After a lot of sanding to come in the weeks ahead (and perhaps even replacement of a few teak pieces, see below), I plan to put on a number of coats of Sikkens Cetol Marine Natural Teak. I need to put a few more coats of varnish (or Cetol) on my new IdaSailor rudder's tiller as well. (Nov. 25, 2007)
Trim to potentially replace:
The companionway step and starboard side hatch rail,
and the much worse port side hatch rail.
A month back, using Gorilla Glue and wood clamps, I glued the companionway step back together successfully. I've salvaged the starboard side hatch rail too. I won't know for sure about the port side hatch rail until spring when Chip Ahoy is uncovered and I can determine what still remains held in place by the 3M 4200 (or likely 5200 considering how difficult the rails were to remove).
Yesterday I finally got back to the teak refinishing project, by cleaning out the spare bathtub in the laundry room that I use just as storage space. The bags of wild bird seed, Chip Ahoy's porta-potti, five gallon jugs of spring water, and other odds and ends found new places temporarily so that the tub was available for teak cleaning with StarBrite teak cleaner this morning. (Jan. 21, 2008)
A couple hours of scrubbing the teak with the cleaner and a 3M Scotchbrite pad didn't produce much results -- the oiled teak was still a dark brown. Lots of dirt and old teak oil got scrubbed and rinsed off, but the teak's appearance didn't change all that noticeably. I considered using StarBrite's Teak Brightener next, but decided instead to move directly to sanding. (The photo to the left and the one directly above are comparisons of after cleaning, then some pieces after sanding.)
After all the parts had dried, in mid-afternoon I began sanding using 60 grit paper and my small hand-sander. By quitting time this evening I had about half the pieces sanded down and looking almost like new teak. (See the before-and-after comparisons of handrails on the left, and companionway hatch slides two photos above.) Another day and the sanding should be completed; then I can move on to applying the coats of Cetol. (Jan. 21, 2008)
All the trim is now sanded with the hand-sander down to bare teak. (Uh oh, the laundry room, spare bathroom, and everything in them is coated with a film of teak dust that'll be impossible to ever completely clean.) The teak sliding hatch handle is new; I'll add it this spring. Next, one piece at a time, I'll hand-sand each smoother with 100 grit paper, clean it with a tack cloth, apply the first coat of Cetol -- then move on to the next piece. (Jan. 25, 2008)
The top companionway cribboard's louvered vent still needed to be sanded by hand. (The cribboard is positioned upside down in this and the following photo.) I installed the louvered vent in early spring of 2004, while refinishing the cribboards, then oiled it like all the other teak trim. It too needed to be refinished.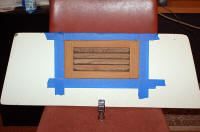 Considering how tedious it was to carefully and slowly hand-sand between each louver, the vent too cleaned up nicely. The final piece of teak is ready for the Cetol finish next. (Jan. 25, 2008)
-- See a close-up before-and-after comparison of the vent --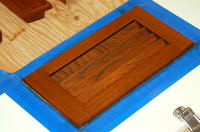 Yesterday I began applying the Cetol Marine Natural Teak finish. First I hand-sanded each piece with 100 grit paper to get a smoother finish than the machined 60 grit left, dusted it off, then used a tack cloth to remove any remnant dust particles. With the vent louver (left), I blew it out with compressed air before using the tack cloth. (Jan. 27, 2008)
I decided to do the Cetol application in two lots due to space considerations, starting with the exterior companionway trim. I'll apply the second coat today, and hand-sand the remaining pieces. After the third coat on these pieces tomorrow, I'll start on the remaining handrails, sliding hatch rails, and cabin interior companionway trim. So far, I'm very satisfied with the outcome after applying just a single coat of Cetol.
NEXT | Page 3 | Page 4 | Page 5
Moving on with Season 2008 improvements
It's never-ending ... but Sailing Season '08 is ahead and coming!